Welcome to Formidium Resource Center
Don't miss out on our exclusive rebranding resources. Learn more about our rebranding!
To our clients, vendors, and friends
Formidium is here!
"We are very excited to announce the rebranding of our company, Sudrania Fund Services, as Formidium."
Read More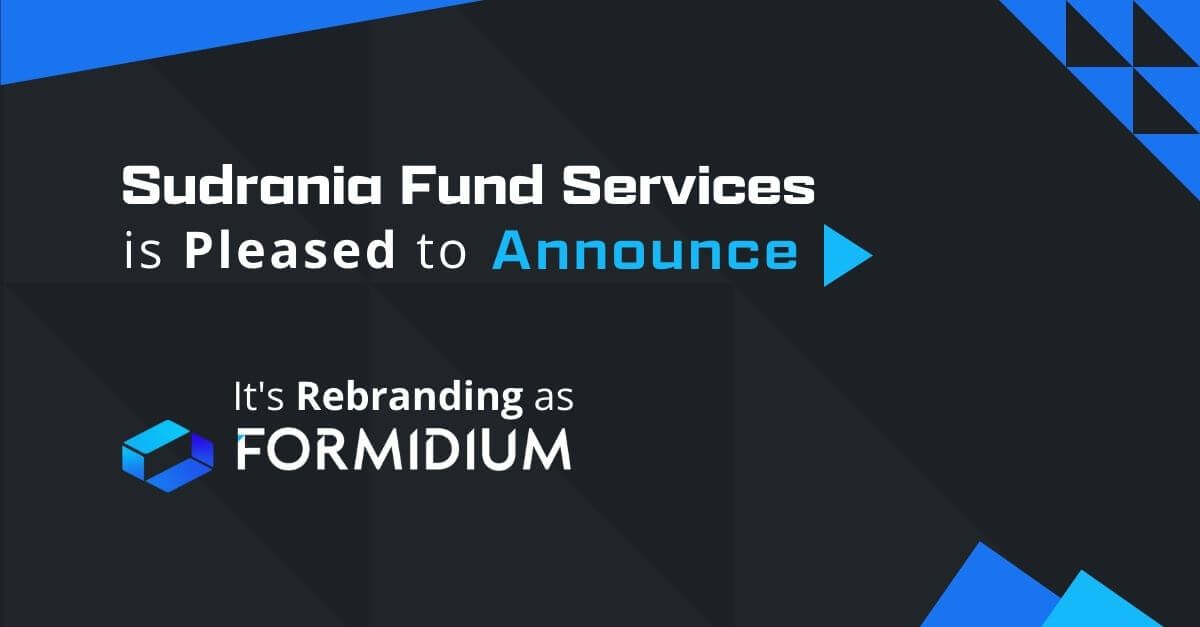 Press Release
Sudrania Fund Services Rebrands As Formidium
New brand identity aligns with the company's digital culture and dominance in fund administration technology.
Questions?
We have the answers..
We decided to rebrand as Formidium Corp. ("Formidium") in order to reflect a global brand that better connects with our customers while also reflecting the image of a technologyenabled, high touch service firm that is a leader in the digital back-office revolution. You can learn more about this change here.
What changes with this rebrand?
• Our company name from Sudrania Fund Services to Formidium Corp.
• Our website/email domain name from sudrania.com to formidium.com
• Our logo.
What does NOT change with this rebrand?
• Company ownership
• Management of the business
• Office addresses
• Phone numbers
• Tax ID
How do we stay connected with you on social media?
Life would have been easier without this change.
Did you really have to do it?
Yes. Old has to give way to new. Innovation is challenging the status quo. We took this exercise sincerely to ensure that we can build an agile brand. We have made every effort to ensure there is no disruption to your business operations. However, we understand some unexpected events may still occur. We request and appreciate your help, support, and patience while we implement this change. We promise to deliver a brand/organization that our clients trust, connect to, and see as bold and innovative!
Will this rebrand change day-to-day business operations or processes as it relates to fund administration?
Our rebrand will not change the way we do business with you!
The online logins will have new login pages (as the website and sub-domains will redirect to the new domain, formidium.com) in accordance with the schedule presented at the end of this document.
We connect Formidium/Sudrania applications via API connectivity? Will our connection settings change?
Existing credentials and keys will remain active. Our team will be in touch with you to change the source/destination URL (from sudrania.com to formidium.com), as well as any DNS/firewall settings, as applicable. This will not be a time sensitive change as the existing settings will continue to work.
Will my login details (username and password) to your websites/products (Seamless, CommonSubDoc, Reporting Portal, or Investor Portal) change?
No changes. You will still be able to access our online platforms using your existing credentials. The login pages will have a different URL (hosted at formidium.com instead of sudrania.com). However, old links will still work and will simply redirect to the new corresponding links for another twelve months.
Our investors and other third parties may not
know about this rebranding. How do you plan to transition to the new name/email addresses for investors?
All the outgoing emails already reflect our new name (along with our f/k/a name) in the footer of the email. In addition, starting August 1, 2022, all outgoing emails will also have a 'header' in the email notifying the recipient of the email about the rebrand.
I have a contract with you, is it still valid?
Yes. All contracts and service agreements are still valid. All future contracts will be in our new name, and in the coming weeks, we will send a 'Rider' to our agreement that will clarify the name change.
Has my point of contact changed?
No. You will continue to be supported by the same contacts. Our employees will have new email addresses so you should update your records to reflect this. The structure of these emails will remain the same (first name.last name). We request that you add our new domain – @formidium.com to your contacts list so we can continue to stay in touch. Don't worry if you send something to one of our old email addresses, we will still receive it. We plan to start sending emails using our new email domain from August 8, 2022. Incoming emails to the old domain (sudrania.com) will automatically be redirected to our new domain (formidium.com) for at least the next 5 years.
Have your payment details changed?
Our name has changed but other payment details remain the same. You will see our new name on the upcoming invoice. Going forward, please send the wires or check in our new name (Formidium Corp.). Any wires and checks sent in our old name (Sudrania Fund Services) will continue to be processed by our bank for some time, so we don't expect any disruption. However, we request you to make this change ASAP in your bill payment settings.
Are you planning to offer new products and
services with the rebrand?
Yes. That is one of the objectives of the rebrand. Some of the new products, services, and tools about which you will hear from us in the coming months are:

i) Formidium Technologies - we are opening up our technology products Seamless Solutions and CommonSubDoc for licensing. As technology solutions, these will come with implementation, ongoing support, customization, institutional grade cyber security as you would expect from an enterprise solution.

ii) Formidium Marketplace – we are working with a partner who will offer 'feeder funds' that will invest in funds we administer. This will be a cap intro solution built on the CommonSubDoc platform that our clients will be able to utilize

iii) Formidium Gearhub – a collection of applications offered by Formidium, as well as links to third party apps. This will also include useful documents and an employee directory for your quick access.
Have you made all the required changes with the government departments and regulators?
Yes. Most of these have been processed and some may be in process to be completed in the coming days and weeks by the government departments or regulators of various countries.
Our periodic statements to the investors in our
funds have your name and logo. When will those change?
The name and logo change on the statements will begin August 1, 2022 and will be implemented during the month of August across all of our clients. Once changed, any statements generated for any period (even for periods before the name/logo change) will have the new name/logo.
Will we have to report your name change in any offering documents, regulatory filings, other documents?
Yes, however this is not time sensitive. We suggest making this change when you make any other changes to the offering documents/regulatory filings.
We suggest making changes to your marketing materials (tear sheets, decks, newsletters, etc.) right away. And if possible, make a note about this change so this can provide some background to your investors. Please feel free to include this link for reference: https://www.formidium.com/sudrania-fund-services-rebrands-as-formidium.html
We have a white-label URL for the investor onboarding portal (*.sudrania.com). Our investors as well as investor services staff currently use this link to access the application. Will that change?
The current white-label URL will remain active for the next two years, however, an additional URL will also be available (*.formidium.com) with the same access credentials. The old URL will redirect the visitors to the new URL from September 1, 2022.